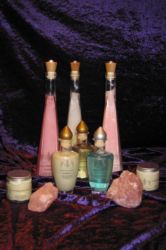 To order these products, please see the Ordering page.
Body Maintenance© Lotions and Creams are a uniquely prepared blend of natural extracts given by Gaia to help soothe and heal aches and pains in the mental, emotional and physical bodies. The lotions and creams are mixed in such a way that, as you bathe, shower, wash/condition your hair or massage your body, you are clearing and cleansing any old, stuck or negative energies you may have 'happened upon', on a day to day basis from your own thoughts, words or actions and also what you may have 'gathered unto you', while living your everyday life.
For example, if you are sitting on a bus or a train, or even in your own car, and somebody else becomes upset or angry and says something that is 'less than loving', this 'fear based energy' as it is called, can impact upon your energy field, so in turn we are affected by another's outburst which has been known to block the energy flow within the body.
A classic way of being affected by other people can happen in many ways. Perhaps even while we are walking around the supermarket. A fraught mother is 'challenged' by her child and, at the end of a stressful day, she can over react, using a loud voice or inappropriate language, becoming more agitated or anxious, which can cause our energy fields to become quite 'damaged'. Thus, it is becoming more and more important that we find a quiet time for ourselves, in order to relax and de-stress our selves. And this is where Body Maintenance© Preparations can assist.
Suggestion: have a bath before retiring to bed for the night, you could perhaps light a candle (placed in a safe spot of course), add some Body Maintenance© Foam Bath (that was created especially for you) with its delicate colour, sweet smelling essential oil and, having shaken the lotion to 'wake up the crystal' sitting quietly in the bottle, you can relax, breathe in the fragrance and allow the warm water to clear away any old or tired energy you are feeling. You would then rest and sleep more deeply, waking up refreshed in the morning and are ready to face a new day – with a smile.
Lotions, potions and creams are created uniquely for every individual, using a natural base product, intuiting specifically through dowsing, for the colour, essential oil and/or crystal pebble required for each person. Barbara Cheryth makes up preparations for anyone, using their first name to enhance the preparation. She then connects with the person's Higher Self/Divine Presence and is guided as to which ingredients would be the most beneficial for that individual.
In her 'toolkit', from which to choose the individual's formula, she has approximately 100 essential oils, more than 50 different crystals and uses natural vegetable colourings for each preparation. At times it is also necessary for sound to be added to the preparation through her voice, as well as adding dried flowers, leaves or petals.
An individual channelled message is given with every preparation giving an explanation of what and why a particular colour has been chosen, the properties and uses of the essential oil, together with qualities of each and every crystal that has been placed in the Body Maintenance© preparation which gives each individual a true insight into perhaps some of the causes and effects of what is going on in their particular life at that moment.